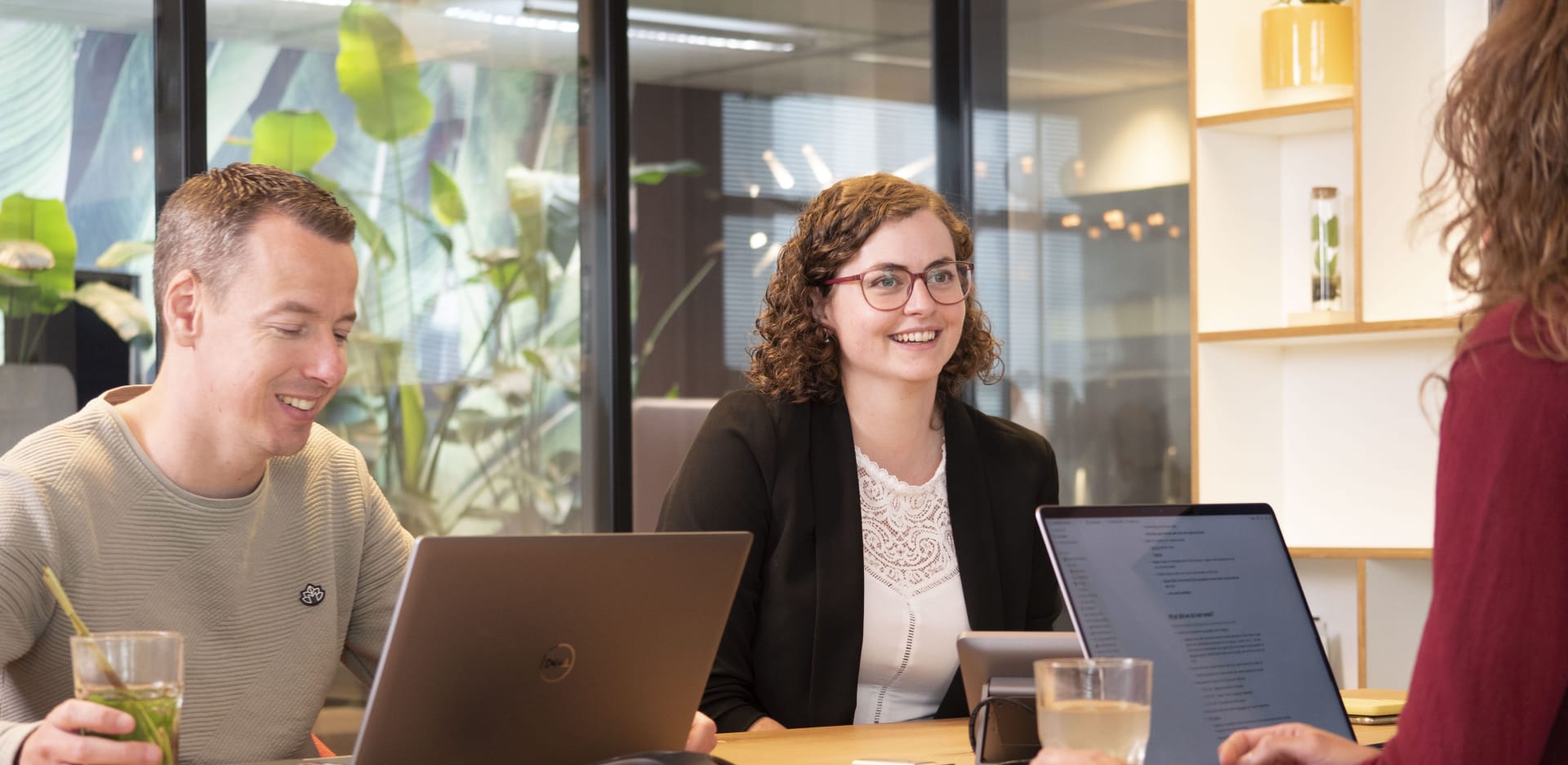 APPLYING FOR A JOB AT TRIPLE
Frequently asked Questions
You probably do not apply for a job every day and when you do, you want to make a good impression. These frequently asked questions will help you get started.
I don't meet all the job requirements, is there any point in applying?
Sure! Even if you don't meet all the requirements, it makes sense to apply. You can explain in your cover letter why you do think you are the colleague we are looking for.
What happens to my data if I am no longer in the application process?
You will or will not give us permission to store your data when you apply for a job. If you do give permission, your data will be stored by us for 6 months. If we have another vacancy that might suit you, we can contact you directly.
Should I include a cover letter with my application?
A motivation is not required. However, it is good for us to know why you would like to work at Triple.
Can I apply to different positions at the same time?
This is definitely possible. What you can also do is apply to one position and state in your motivation that you are also interested in other positions.
I don't see a suitable job posting at the moment, can I still apply?
Please do! You are always more than welcome to send us an open application. Would you rather wait and see? Just sign up for our Job Alert and stay informed about our new vacancies that match your interests.
I saw a job posting here yesterday, but can't find it now. What should I do if I still want to apply?
That's unfortunate! Don't worry, you can still send us your application via the open application form.
Where can I ask questions about a job posting?
The phone number of our Recruiters is listed in every job posting. You can always contact them if you have any questions. Do you prefer email? Then just email us at jobs@wearetriple.com
I don't live in the area, is that a bad thing?
This may vary per position. In some positions we ask that you be in the office more often. We basically use 'hybrid working' where you work in our office at least 2 days a week, yet sometimes the position does not allow this.
Questions during your application process
What can I expect from the application process?
Once you have sent us your application, we aim to contact you within 2 days. We will schedule a phone interview with you. This introduction will take about 30 minutes and is mainly intended to tell you more about Triple. Obviously we are also curious about your requirements, ambitions and experience.
If we feel it is a match from both sides, we will invite you for an introductory interview. Your future team lead and another colleague will be present. During the first meeting we would like to hear all about your requirements, ambitions and current knowledge level. Together we determine whether this fits Triple.
Are we all still in for it? In that case you will receive an invitation for a second interview from us. During the second interview we will go deeper into the technology and challenges involved. The goal is to determine where your added value lies. This interview will be attended by colleagues who are better able to deep dive into the actual work details with you.
Did you have two positive interviews? Great! In this case, a written offer will follow, explaining the primary and secondary conditions of the job. The recruiter you spoke with earlier will contact you about this.
How do I know if my application was well received?
You will receive a confirmation email when your application has been received. If you have any doubts, you can always contact our recruiters via the telephone number in the vacancy or via email at jobs@wearetriple.com.
I applied for a position, when will I get a response?
We aim to answer you within 2 business days. Unfortunately, this is not always feasible. If you have not had an answer after 4 business days, please be sure to contact us.
If I am rejected, can I apply again in the future?
You may always reapply, even if you were previously rejected. If you are in doubt, please contact the person from whom you received the rejection.
Questions to prepare for your job interview
What is the dress code at Triple?
this depends entirely on what you feel comfortable with. From casual to business. Of course, it also depends on the position. Are you applying for a job where you regularly visit clients? Then we recommend casual-business. Are you working more alone on location? Then you are fine to dress casually.
Where is the best place to park?
Set your navigation address to Keesomstraat 10E, Alkmaar. You can park for free at P+R Oudorp.
What is the best way to reach Triple by public transportation?
From Alkmaar Central Station, you can take bus 129 (direction Purmerend Tramplein), 160 (direction Heerhugowaard Centrumwaard) or 162 (direction Heerhugowaard Icaruslaan) and get off at bus stop Saturnusstraat P+R.
Where is the entrance to the office?
Our address is Keesomstraat 10e. The entrance to our office is on the water side of the building. If you ring the bell, we will open the door for you. Our lobby is on the second floor of the building.