We take our work very seriously. Providing 100% uptime and offering solutions to our partners that they don't yet know they need, does not happen without dedication. Meanwhile, we have not changed. We still grab every opportunity to play and discover new things. Experimenting with new techniques, methods, programs and tools. We really enjoy that. And the best Triple innovations have emerged that way.
At Triple, you have the freedom to develop. In any direction you prefer and one in which you excel. You are supported by us. You work in a team that is composed in such a way that people complement each other in terms of knowledge, experience and skills. This is how we learn from each other in the best way possible. Job evaluations? We prefer to call them evolutionary dialogs, in which we discuss your professional development.
It is deeply rooted. Because without the love for gaming, Triple would never have been founded. Gaming has taught us that it's okay to fail. Trying again and again takes you further. We embrace this and extend it as far as possible. Besides the Playstations (yes, plural), our offices are full of offline games such as table tennis and board games. Playing and relaxing now and then is good when you have been working intensively. It also helps to view a project in a different way. So you can get on with it.
When do you enjoy your work the most? When you do something you like. In a way that suits you best. At Triple, you get all the freedom you need within your responsibilities. Got a good idea? Go for it! This creates a drive from within. You can really chase your own dreams, because there is nothing more motivating than doing just that. Our coolest innovations come from that mindset. This is what happened when the urge to give our empty, featureless roof a function met with the passion of one of our designers. The result is a bee colony the Triple way. With sensors, scales, activity meters and webcams, we connected the hives to the IoT (Internet of Things). In this way, we learn more and more about our bees, enjoy the honey and give nature a hand.
We can get pretty passionate during a game. But that is nothing compared to how we come up with innovations and develop them. Covid crisis? The opportunity to build a VR office! With your own set of Oculus Quest VR glasses, you'll be in the VR office, surrounded by colleagues, in the blink of an eye. Need lightweight apps for Smart TVs? Team Smart TV tests and adopts Svelte. Have you ever been to a hackathon? You need to experience that effervescent energy at least one time. And don't even get us started on the new start-ups that regularly emerge from our great ideas.
Knowledge sharing
When tech-savvy people and digital creatives are given the freedom to dive into the fast-developing subject matter that interests them, the knowledge within the organization will grow faster than you can keep up with. Nevertheless, we try to do it anyway. Because together we know the most. And by sharing our learnings with each other every month, and with our competence teams every week, we help and inspire each other.
Of course we love to share our insights with you! Every quarter we organize our Triple Talks Meetup in which we share our latest insights and thoughts on tech trends with you.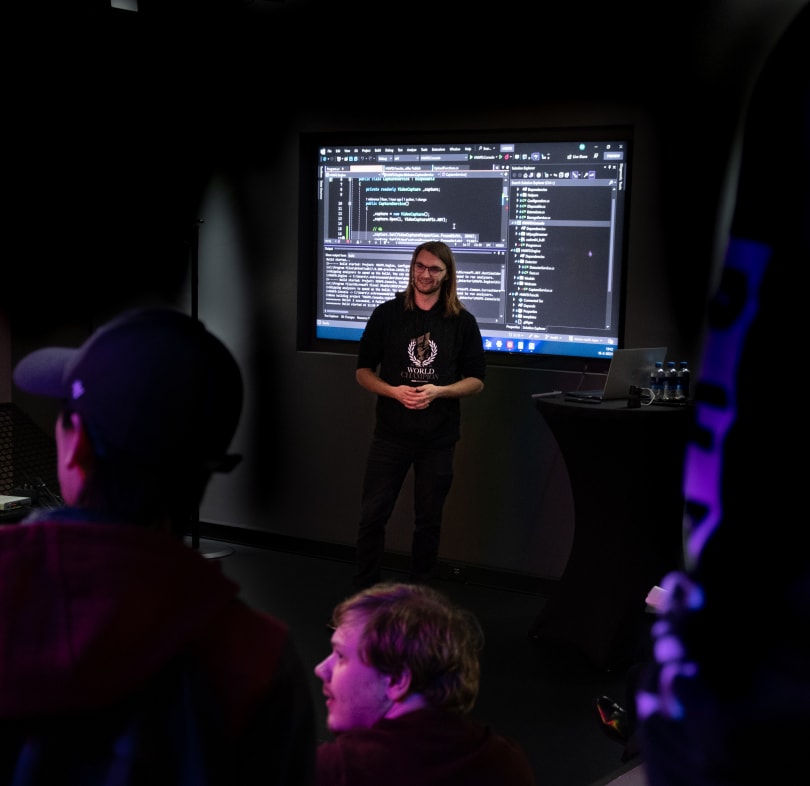 Doing fun things together after work
Besides the weekly Friday drinks, we regularly organize other fun events. In the summer we can regularly be found on the roof terrace for a barbecue, we organize padel, tennis and futsal tournaments, and we play our favorite games during Boardgame Nights or the LAN parties.
Tropical Tuesday
Digital techies and creatives are bursting with ideas for hobby projects. However, ideas often are not developed further, which is a waste. We feel that it's important to stimulate creativity and to let that love for tech or design grow. That is exactly why Tropical Tuesday was created. Work on your project with like-minded colleagues on Tuesday evenings, after a good company-paid dinner.
Triple Inspires
A lot happens at Triple that is worth sharing. We've grown into such a big crowd that you don't get to see everything your colleagues do. That is why you can present to your colleagues during lunch breaks. About new techniques, what you are currently working on or about a Tropical Tuesday hobby project. Kind of like TEDx, but with subjects that really interest you.
Funky Friday
We love a good party. In addition to our Friday afternoon drinks, we also have a Funky Friday theme party once a month. In addition to our annual and now famous Halloween party, we have already transformed the Funky's into Carnival, Festival, Oktoberfest, a Silent Disco and more fun themes. View our aftermovie of 2022 here.
Triple is a Great Place to Work®
With a wonderful score of 85%, Triple has achieved the Great Place to Work® certification! When asked if Triple is a Great Place to Work, 95% of the 200+ colleagues gave a resounding yes. The unique Triple culture, the freedom and responsibility they experience and the opportunities for personal development are the most frequently mentioned reasons for labelling Triple as a Great Place to Work according to our colleagues.